The XFL Blimp was a
Blimp
purchased and utilized by the defunct Football league, the XFL. This blimp crashed into a marina, near Oakland, California.The XFL blimp sustained damage, to the blimp that cost over 2 million dollars, and the football fans at Oakland Coliseum, booed the XFL blimp anyway. More lost revenue, for the one year stint, into madness. This was voted the most pathetic Crashes in all of
Airship
history. Why? The reason why, they crashed was a large gust of wind, made the ground crew, lose control and handling, of the anchor ropes, is what it was, see. Which in turn made controlling the large XFL blimp, nearly impossible, so the Pilot and the Co-Pilot abandoned their blimp. So now the XFL blimp was solo and unmanned, it flew up quite a ways and drifted for about five to six miles, before getting snagged on a sail boat mast, and then it crashed into the water of the marina. They where cruising around the Oakland Stadium in which an NFL playoff game was currently being played. The XFL went out of business, and so did the blimp, but not before the founders of the XFL lost a total of 70 million dollars.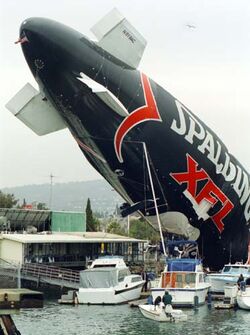 Ad blocker interference detected!
Wikia is a free-to-use site that makes money from advertising. We have a modified experience for viewers using ad blockers

Wikia is not accessible if you've made further modifications. Remove the custom ad blocker rule(s) and the page will load as expected.