WALRUS is a Program/company launched by
DARPA
. It's mission is to create the ultimate War
Hybrid airship
. The program Activated Phase 1, which involved taking proposals From other companys to resume special work. Companys include Lockheed-martin, Half-Mile-High-Club, Worldwide Aeros, PhAnToM aViAtIoN, Advanced hybrid technologies, World skycat, Dynalifter, Zeppelin, Goodyear co., and much more. Basically every Airship company is pitching in. See also,
List of WALRUS airships
. as of 2007, the program was in danger of termination, but still survives to this day. A WALRUS prototype is slated to fly end-2008.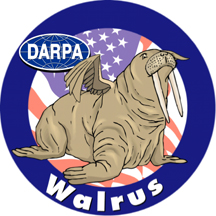 Ad blocker interference detected!
Wikia is a free-to-use site that makes money from advertising. We have a modified experience for viewers using ad blockers

Wikia is not accessible if you've made further modifications. Remove the custom ad blocker rule(s) and the page will load as expected.