The Vickers Transoceanic Airship project was a planned airship series around the 1930s to design and mass produce GIANT, 800 ft.
Rigid airships
, or
Zeppelins
.
These planned ships would have Space for over 70 passengers. Unfortunately, The
Hindenburg
disaster and the company making this,
Vickers
, had money issues anyway, which ultimately halted production.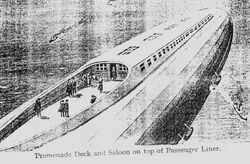 Ad blocker interference detected!
Wikia is a free-to-use site that makes money from advertising. We have a modified experience for viewers using ad blockers

Wikia is not accessible if you've made further modifications. Remove the custom ad blocker rule(s) and the page will load as expected.