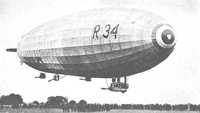 The R34 was One of the many British constructed Airships and a Memorable one in
airship
history. It was the largest ship at that time for a month or so, with a big length of 645 ft. She was the first ship to cross the atlantic from Britain to america, and is one of the most successful Airships of all time. The R34 opened a new Era in
airship
history and with this record breaking ship, the future of Airships looked very bright
Construction
Edit
Construction began at the
Beardmore Inchinnan airship factory
in 1918. The whole framework was modified to prevent atmospheric emplosion and heavily braced by wiring. Lengths of linen fabric were stretched between each pair of frames, where they were attached by laces. Narrow strips were then Glued over the lacing and the covering of the hull was painted with dope containing aluminium powder, to reflect sunlight and so reduce superheating. In the chambers formed by the main circumferential frames and the longitudinal girders were the gasbags, nineteen in all and made of one thickness of rubber-proofed cotton cloth, varnished and lined with goldbeaters' skins. Each gasbag was contoured to fill all the available space and was surrounded by cord mesh to prevent chafing against the girders. Following the same design as the
R33
, beneath the main body of the airship, suspended by long, wooden struts and braced rigging wires, were four small gondolas.

The record-breaking voyage
Edit
Shortly after construction, the Air Ministry had now decided to take the R34 to the USA, and a northerly coastal route was decided in case the ship ran out of fuel, then she would never be too far from landfall. Two war airships, the Renown and the Tiger were offered as supply vessels in case the ship would come in to difficulty and also to offer meteorological reports. It was agreed that if the ship did get in to difficulty, then the R34 would be taken in tow. The plans which were being arranged in New York were the supply of hydrogen for the ship, and a party of 8 experienced airmen were dispatched to America to arrange and train the main part of the American ground crew. The American s had at that time, no experience of a rigid airship. The voyage went on uneventfull and the Ship safely arrived in new york with the streets completely jam-packed with cheering people welcoming the arrival of the ship. After this, the good ship, crew and captain became legandary.
After voyage.
Edit
after the record-breaking voyage the R34 flew a total of 51 more flights before she crashed. The ship became a popular and common sight in the sky in britain and sometimes New York (united states)
the big crash
Edit
First off, no one died, let alone was even hurt in the crash. only Whoopsy the kitten was hurt, with just a little bruise on her paw.The ship moved out over Spurn Head and during this time due to confusion with radio messages, contact was lost with the ship. Commander Maitland decided to recall the ship and the message was ordered to be repeated until understood. The ship finally heard the signal and began to return home. Confusion occurred on the R34 as the navigating officer had lost his way, and thought that the ship was safe to journey home, however during the voyage the weather had deteriorated and a heavy fog enveloped the area. The signals were confused as to the ships exact location, however the crew continued in the direction of Howden.
By midnight, the crew was settling into their bunks and the watches were changing when a loud grinding sound was heard and a shudder went through the ship. The control gondola lights went out and the crew was thrown to the floor. Upon recovery it was discovered that at 12.10 am a sudden downdraft had pushed the ship into an unseen slope of the moors. Luckily the ship "bounced" and lurched upwards, and the captain rang for the engines to be stopped.

in the end of a series of ordeals, every one of the crew was recovered and safe, and the front was repaired. The mighty ship flew two more little Test flights before being scrapped, and it was very well one of the most successfull Airships in history